FC Edmonton storms back from early deficit to draw Atlético Ottawa
---
Never give up on the Eddies!
After looking like they were down and out, and trailing 2-0 in the final 10 minutes against Atlético Ottawa, FC Edmonton found two very late goals to earn a 2-2 draw on Sunday at The Island Games.
Just a few days after suffering a 4-0 loss to Valour FC, CPL newcomers Ottawa came out stronger than ever on Sunday, scoring a pair of early goals.
It really didn't take long for Atlético to start the party. Just 22 seconds into the game, an errant pass from Edmonton's Erik Zetterberg made its way to Ottawa's Francisco Acuña (via Malcolm Shaw), and he scored to claim the new fastest goal in CPL history.
Not long after, the expansion side struck again, as Malyk Hamilton found Acuña in the box with a through ball for the Mexican midfielder's second goal of the match, with just 15 minutes gone.
Edmonton's afternoon got no easier after conceding twice, when centre back Kareem Moses went down to injury just 20 minutes into the game. With regular stalwart Amer Didic already out with an injury, the Eddies' defensive ball-playing abilities took a hit. That said, they did manage to keep Atlético at bay for the final 70 minutes, allowing just five shots since Sam Gardner came on in relief of Moses.
Ottawa were undoubtedly protagonists in the first half, with just 18.5 per cent of the opening 45 played within their defensive third of the field. The Eddies gradually picked up steam and controlled more of the ball as the minutes wore on, but they couldn't quite threaten goalkeeper Nacho Zabal often enough until the very end.
Keven Alemán was lively all game for FC Edmonton, slipping into both half-spaces in a free-roaming role. So, it was fitting that he was rewarded in the 88th minute, finding himself in perfect position to smash home a rebound after a save from Zabal.
Finally, it was Easton Ongaro who seized a point for the Eddies on the brink of stoppage time, as he jumped on a loose ball at the goal line to finish a desperation run by Hanson Boakai and tie things up.
This draw, the latest in a long string at The Island Games so far, makes the CPL standings very interesting heading into another week of matches.  Just two points separate Valour FC in third from Atlético Ottawa, who sit tied for fifth on two points with HFX Wanderers FC and Pacific FC. FCE, at the bottom with just one point, are still very much in the hunt for the top four, with four games left to play.
Up next for the Eddies is a date with HFX Wanderers FC on Wednesday (8:00 p.m. ET/9:00 p.m. AT). Ottawa will be back in action on Thursday against Cavalry FC (8:00 p.m. ET/9:00 p.m. AT).
---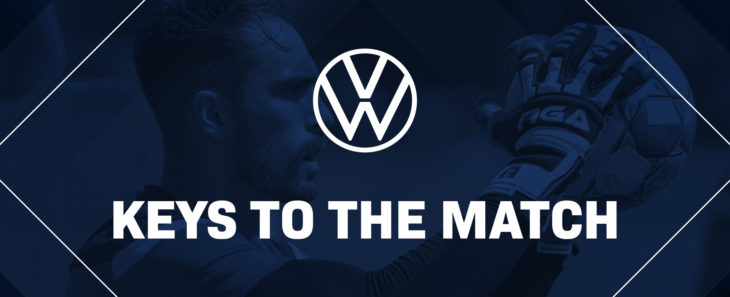 Atlético Ottawa: The full 90 – The attack slowed down a little after the opening rampage, but with an early 2-0 lead, Ottawa opted to play a little more conservatively and avoid the same collapse they suffered against York9 FC. They had to absorb a lot of pressure in the second half with Edmonton pressing, and they finally gave out at the very end.
Veteran presence – Well, they certainly had contributions from the veterans, didn't they? Acuña was sublime, and Ben Fisk worked extremely hard up and down the left flank. The players Ottawa needed to step up certainly did, with gusto.
FC Edmonton: Get in – Getting into the box was Edmonton's biggest issue, with just four touches in the penalty area, but they managed to break through when it counted, right at the end.
Stay organized – Edmonton played a slightly different system on Sunday, with Jeff Paulus opting to play both Ongaro and Ameobi up front, with Keven Alemán roaming (quite dangerously) behind. They did settle into their shape, but Ottawa managed to jump on key mistakes and exploit gaps early on, before the back three became comfortable.
---
BOX SCORE
Goals
1′ – Francisco Acuña (Atlético Ottawa)
15′ – Francisco Acuña (Atlético Ottawa)
88′ – Keven Alemán (FC Edmonton)
90′ – Easton Ongaro (FC Edmonton)
Discipline
20′ – Yellow: Keven Alemán (FC Edmonton)
41′ – Yellow: Antoine Coupland (Atlético Ottawa)
43′ – Yellow: Ben Fisk (Atlético Ottawa)
48′ – Yellow: Mohamed Kourouma (Atlético Ottawa)
68′ – Yellow: Sam Gardner (FC Edmonton)
---
TOP PERFORMER
Francisco Acuña (Atlético Ottawa): We had this one pencilled in from early in the first half. Acuña was shimmering with Liga MX quality all afternoon, scoring his brace with two professional finishes. The 32-year-old was all over the pitch for Ottawa as the real catalyst for the attack.