Holliday proud to make his pro debut with FC Edmonton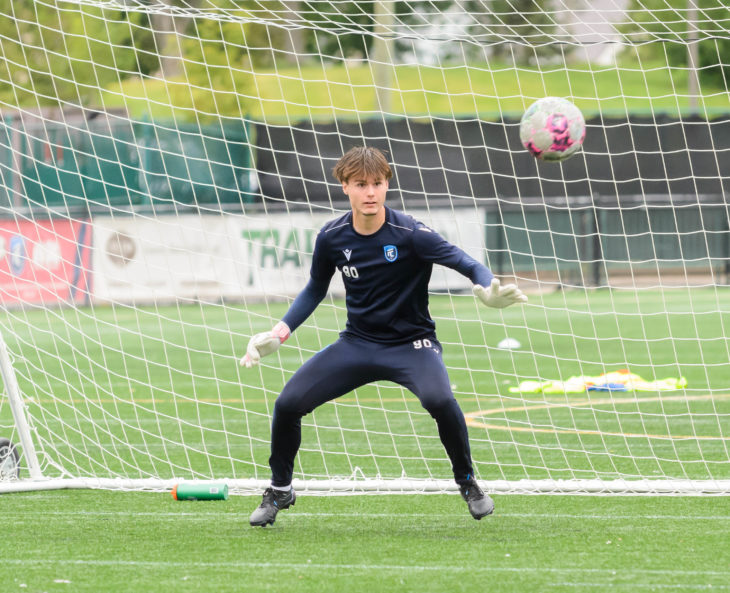 Jason Hills
FC Edmonton Communications
EDMONTON — There were only a handful of minutes left in FC Edmonton's final home match of the 2022 season, but Joseph Holliday couldn't run to the substitution area fast enough when his name got called.
His moment had finally arrived.
The 17-year-old was about to make his professional debut for his hometown club  and organization he's been a part of since he was 12.
"To have my friends and family (in the crowd), and the Eddies supporters who have seen me grow up with this club, and to make my debut with Edmonton — it meant the world to me," said Holliday.
Holliday was subbed in for starting goalkeeper Andreas Vaikla in the 89th minute. He played the final minute of action, and all four minutes of stoppage time.
"It was the best four minutes of my life," smiled Holliday.
"I've waited five years for this opportunity, and there was no better feeling. Seeing and feeling the energy of the crowd, getting the win and being able to share it after with all the fans. It's the little things, and it all adds up.
"I've been dreaming of it since I was 12, and I'm 17 now, and for it to finally happen. It's a dream come true."
Holliday joined FC Edmonton's Academy when he was just 12-years-old. He spent the last two seasons with the the Eddies on a developmental contract, which allowed him to train with the club all season long.
For the past two seasons, Holliday worked alongside the Eddies other keepers working on his craft, waiting for his opportunity.
This year, Holliday worked each and every day with goalkeepers Andreas Vaikla and Darlington Murasiranwa.
While Vaikla and Murasiranwa got the bulk of action during training sessions, Holliday tried to make the most of his time spent in the goalkeepers net.
When his teammates wanted to stay after training and get extra shots in, Holliday would stay on the pitch and battle it out with his teammates.
When Holliday ran onto the pitch last Saturday, all of his teammates couldn't wipe their smiles off their faces, especially Vaikla and Murasiranwa, because they knew how hard he worked for that moment.
"I've been very close with Dar for a lot of years now, we're like brothers. He's family to me. And, Vaiks (Vaikla) instantly engaged himself with our team, and I learned a lot from him this year.
It meant a lot for me to make my debut in a game that he played in," said Holliday.
"I like to think all of us are like brothers. We've pushed and supported each other all season long, and to have both of them to learn from this year has been really great for me. I can't thank them enough."
While Holliday got to share the moment with his Eddies teammates and coaches, he was most proud to share his professional debut with mother Maria, who never misses an Eddies home game.
"When I didn't know if I was going in or not, I looked up at her a few times, and I think she was biting her nails as much as I was," said Holliday.
"It's definitely extra meaningful to share this moment with my mom. She's supported me every step of the way. After the game, we presented her with the game ball, and I couldn't wait to give her a big hug."
FC Edmonton has been nicknamed FC Opportunity this past season. With so many players on their roster making their professional debuts, it was certainly a year of major development for many of their players.
You saw players like midfielder Gabriel Bitar and Wesley Timoteo establish themselves and should have a bright future ahead.
There were several others, who carved a path to become stronger players at the professional level.
While Holliday's debut was short, this marks just the first baby steps in what he hopes is the start of a strong pro career.
"I'm very thankful for the club," said Holliday.
"FC Opportunity has helped a lot of guys, and I'm forever grateful for this opportunity. Even if it was just for a few minutes (his pro debut), there's no other place I'd rather make my debut than with FC Edmonton."