"The Stollery always holds a good place in my heart and they basically are the reason why I am here today." – Dylon Powley
When Dylon Powley was four years old, he used to suffer from frequent ear infections. One morning in particular, he recalls walking down the stairs and bouncing off the wall and railings of his house.
His dad, Craig Powley, took his son to the hospital thinking it was just another ear infection, and that he would get his medication and they would be out the door.
But, for Powley and his family, they found out it was more than just an ear infection.
After his family doctor assessed the FC Edmonton goalkeeper, he quickly realized it was something more serious. The doctor told Powley's family to head to the Stollery Children's Hospital as they are expecting his arrival.
"The minute we walked into the door and my dad said my name, there were nurses and doctors all around me," Powley recalled. 'They took me in right away. I was diagnosed with Guillain-Barré syndrome, which basically turns your central nervous system against your own body. So my white blood cells started attacking my own body. And at the age of four, I was in a situation where there was a chance of it ending in a non-favourable outcome."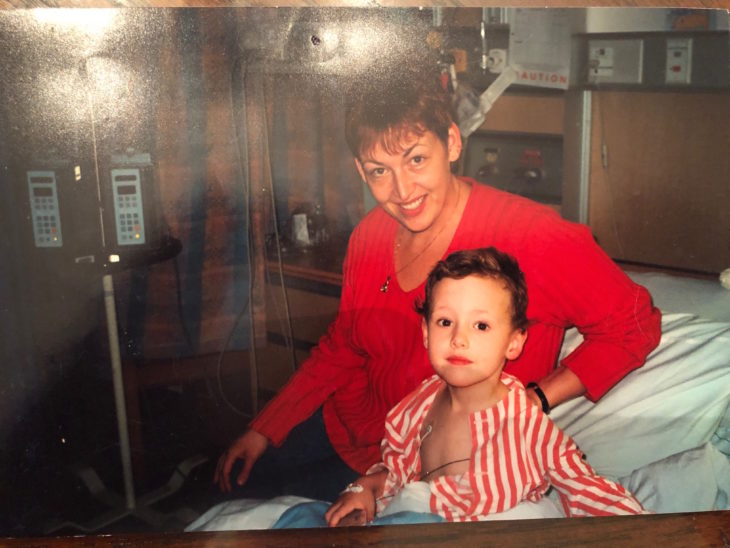 The cause of the condition is unknown and there's no cure for it. There are treatments that can reduce the severity of the symptoms and shorten the duration of the illness. Guillain-Barré is rare, and affects about two to three per 100,000 Canadians a year according to the Muscular Dystrophy Canada.
But for four-year-old Powley, it was tough for him to grasp what was happening. He recalled his Nana and other family members from across Canada flying in to see him, which made him realize that something serious was happening.
The 23-year-old goalkeeper spent one-and-a-half weeks in the Stollery hospital where he was fighting for his life.
"I had to be put into a coma for a little while," Powley said. "I had to take a spinal tap and they took spinal fluid from me and it wasn't a very good experience. I actually lost the feelings in my legs so I was being wheeled around by my mom and dad, who were with me the entire way."
When you are in a situation where you are facing great struggle, it's important to surround yourself with your loved ones. It's important to keep your morale high in order to keep fighting through tough times, and that's when your surroundings really help you get over the line.
"Positivity is basically what makes the world go round in my opinion," Powley stated. "The doctors and nurses there really went above and beyond. the brought me checkers boards and balloons and stuff like that. I actually have pictures at home of me playing checkers with my dad.
I remember my best friend at the time Cameron, he brought me a stuffed toy dog that I still have to this day and no matter what, I always keep that with me. It's my most prized possession in terms of sentimental value."
The Stollery will always hold a special spot in the heart of Powley and his entire family. After spending some time at the Stollery, he understands the value of having top-class professionals working with children. The appreciation for what they do is something that will never be undervalued in his household.
"It's crazy how much they have to do," Powley said. "They're changing your fluids, they are making sure everything is in order, they're making sure you are fed and cleaned, they're doing so much more. They are giving you your medication, and it's a thankless job because people think that's just their job, but they do a lot of things behind the scenes that are just amazing.
I am sure they can sympathize that 'oh, if this was my child, I would want them to be looked after a certain way.' Everything about that facility and the staff there is just top-class."
Finally, the two people that mean the most to Powley are his parents who have stuck with him from start to finish. They have been his support system and his biggest fans since the beginning. He remembers on his last day at the hospital, the doctor told him that if he is able to walk up and down the hallway five times, they would allow him to go home. And who was there helping him walk up and down?
Mom and Dad.
"it's a tough one to talk about," Powley said as he glanced away. "Because my parents, just like medical professions, it's a thankless job. As a kid, you probably just look at your parents and think, well you wanted to have a kid and that this is what you signed up for. But, we don't come with manuals and I am very appreciative and lucky to have the parents that I have. "
Powley and his teammates will be heading to the Stollery hospital on Friday to spread some joy and offer encouragement to kids, who are in the same position that he once was in. Being a child of the Stollery, Powley defied all odds and is now a professional goalkeeper for his home town club.
 "I just want to let them know that I was in their position once upon a time and I was lucky enough to overcome that," Powley said.  "And that if you surround yourself with people that you love, plus the amazing staff there, then you have a very good chance and once you are out of there, the sky is the limit."